---
Our homemade pizza crust is made fresh daily
These classic Pizza Inn originals blend your favorite ingredients to create distinctively unforgettable flavor combinations. Every one of our Signature and Max Pizzas start with a generous portion of Mozzarella cheese.
For nutritional information, please click here.
Specialty Pizzas
Bacon Cheddar Ham
Choose your favorite made-from-scratch crust and we'll load it up with tons of lean bacon, smoked ham and layers of Cheddar and Mozzarella cheese.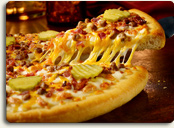 Bacon Cheeseburger
Get the great taste of a Bacon Cheeseburger on a New York Pan crust with everything from beef, lean bacon, savory onions, Cheddar and Mozzarella cheese to tangy mustard and crisp pickles.
Taco Pizza
Our Original Thin Crust topped with seasoned taco meat, Cheddar cheese, crispy lettuce, and fresh diced tomatoes.
Everything Monster®
A hearty combination of beef topping, smoked ham, pepperoni, seasoned pork topping, savory onions, green olives, black olives, mushrooms, fresh green bell peppers and two layers of Mozzarella cheese.
Chicken Fajita
A mouth-watering blend of spicy picante sauce, grilled fajita chicken, fresh green bell peppers, diced tomatoes, savory onions, black olives, and a blend of Mozzarella and Cheddar cheese all served on our crispy Thin crust. Olé!
Buffalo Chicken
A wing lover's pizza – Cool Ranch dressing topped with seasoned chicken tossed in our zesty buffalo sauce, and cheddar and mozzarella cheese.
Max Pizzas
Maximum Toppings!…. Maximum Flavors!…. Maximum Value!
Pepperoni Max®
An ocean of America's Favorite topping … pepperoni.
Veggie Max®
A special selection of garden-fresh toppings including savory onions, green olives, black olives, fresh green bell peppers, diced tomatoes, and mushrooms, topped with Cheddar and Mozzarella cheeses.
Meaty Max®
A mountain of pepperoni, Italian sausage, lean bacon, smoked ham, beef and loads of Cheddar and Mozzarella cheese on your favorite crust.
Menu selection may vary by location.
Our Fresh Toppings
Pepperoni
Ham
Italian Sausage
Seasoned Chicken
Beef Topping
Pork Topping
Bacon
Onions
Mushrooms
Green Olives
Black Olives
Green Peppers
Diced Tomatoes
Pineapple
Jalapeño Peppers
Banana Peppers
Anchovies
Cheddar Cheese
Extra Cheese
*Limited time offer. Prices, participation, delivery area and charges may vary. Not valid with any other offers. Tax not included. Offer subject to crust availability. Prices may vary by location. At participating locations only. Delivery areas & charges, minimum requirements may vary. Additional charge for extra cheese where applicable. No double toppings. Certain activities provided via this website may be covered by U S Patent 5,930,474.